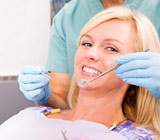 Root planing is a procedure that allows us to achieve your — and our — basic goal in dentistry: healthy, clean gums and teeth.
At a level in between scaling by your hygienist and periodontal (from peri, around and odont, tooth) surgery, root planing is a conservative treatment that attempts to eliminate the need for gum surgery.
The Problem:
Plaque is a film of bacteria (a biofilm) that adheres to your teeth at the gumline. This is what you try to remove with daily brushing and flossing. Plaque that is not removed can form a hard coating called calculus or tartar. These substances irritate your gums and cause inflammation, which in turn causes your gum tissues to lose their attachment to your teeth. The resulting gaps between the teeth and gums are called pockets, and they act just like pockets in your clothing.
Your teeth are fastened in your jaws by a combination of bone and soft tissue including the gums and the periodontal ligament, tissues that holds each tooth in place. When pockets form and bacteria move into them, the bacteria and the toxins they emit can become ingrained into the surface of the roots of your teeth (the bottom parts that are below the gumline) and cause further inflammation and infection. This can lead to loss of attachment of the gum tissues and bone that anchor your teeth. In the worst cases you can lose the teeth.
The Solutions:
1. The first level of defense is your own daily brushing and flossing. Ask us to check your technique to make sure you are effectively removing plaque.
2. Second, your dental hygienist can remove superficial collections of calculus by scaling, using hand tools or a sonic scaler.
3. Third, root planing actually planes the surface of the roots of your teeth, in the same way as a carpenter planes a piece of wood. It removes calculus, bacteria and toxins ingrained into the root surfaces so that the infected gum tissues can heal.
Root planing is usually done using local anesthesia to numb the teeth and surrounding soft tissues. The planing may be done first with an ultrasonic device that cleans by vibrating particles off the root surfaces and simultaneously flushes the pockets with water. The root planing is finished with delicate hand instruments called curettes. The area may then be flushed with antibacterial medication to fight infection.
The response to root planing is usually evaluated three to four weeks later. The gum tissues are checked for healing, and probing measurements of the pockets are retaken. Depending on the results, additional root planing may be needed.
4. Finally, in cases of the worst periodontal infections, you may need periodontal surgery. Each person's situation is unique and should be based on an examination and evaluation.
Contact us today to schedule an appointment to discuss your questions about dental hygiene and root planing. You can also learn more by reading the Dear Doctor article, "Root Planing."