My Blog
Posts for: September, 2015
By Rudolph E. Roman, DMD
September 23, 2015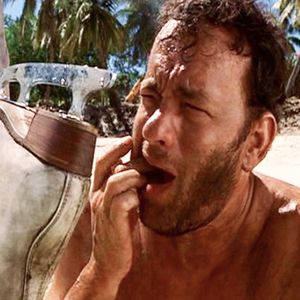 Did you see the move Cast Away starring Tom Hanks? If so, you probably remember the scene where Hanks, stranded on a remote island, knocks out his own abscessed tooth — with an ice skate, no less — to stop the pain. Recently, Dear Doctor TV interviewed Gary Archer, the dental technician who created that special effect and many others.
"They wanted to have an abscess above the tooth with all sorts of gunk and pus and stuff coming out of it," Archer explained. "I met with Tom and I took impressions [of his mouth] and we came up with this wonderful little piece. It just slipped over his own natural teeth." The actor could flick it out with his lower tooth when the time was right during the scene. It ended up looking so real that, as Archer said, "it was not for the easily squeamish!"
That's for sure. But neither is a real abscess, which is an infection that becomes sealed off beneath the gum line. An abscess may result from a trapped piece of food, uncontrolled periodontal (gum) disease, or even an infection deep inside a tooth that has spread to adjacent periodontal tissues. In any case, the condition can cause intense pain due to the pressure that builds up in the pus-filled sac. Prompt treatment is required to relieve the pain, keep the infection from spreading to other areas of the face (or even elsewhere in the body), and prevent tooth loss.
Treatment involves draining the abscess, which usually stops the pain immediately, and then controlling the infection and removing its cause. This may require antibiotics and any of several in-office dental procedures, including gum surgery, a root canal, or a tooth extraction. But if you do have a tooth that can't be saved, we promise we won't remove it with an ice skate!
The best way to prevent an abscess from forming in the first place is to practice conscientious oral hygiene. By brushing your teeth twice each day for two minutes, and flossing at least once a day, you will go a long way towards keeping harmful oral bacteria from thriving in your mouth.
If you have any questions about gum disease or abscesses, please contact us or schedule an appointment for a consultation. You can learn more by reading the Dear Doctor magazine articles "Periodontal (Gum) Abscesses" and "Confusing Tooth Pain."
By Rudolph E. Roman, DMD
September 08, 2015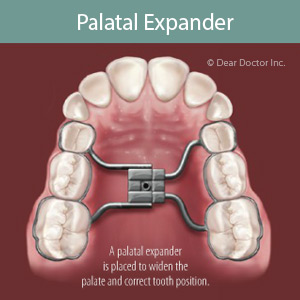 People mainly identify orthodontics with braces. But while they're a major part of it, braces aren't the only way this important dental specialty can make a difference in a person's bite.
For example, orthodontics can help guide the development of a younger patient's facial structure that could head off future upper teeth misalignment. The area of focus is the upper jaw and palate (the roof of the mouth) that jointly make up a structure called the maxilla. The maxilla is actually formed by two bones fused together in the center of the palate along what is known as the midline suture running from front to back in the mouth.
The two bones remain separated until puberty, which helps accommodate rapid structural growth during childhood. But problems can arise if the upper jaw is too narrow, causing a "cross-bite" where the lower back teeth bite abnormally outside the upper ones. This can crowd upper permanent teeth and cause them to erupt improperly.
Using a technique called palatal expansion we can correct this abnormality if we act before the maxillary bones fuse. The technique employs a custom-made appliance called a palatal expander that attaches to the posterior teeth of the upper arch. Expanders have two halves joined by a small screw device to increase tension against the teeth to widen the jaw. A parent or the patient (if old enough) increases the tension by using a special key to turn the adjustment screw a tiny amount each day. This may cause minor discomfort that normally eases in a few minutes.
The patient wears the device until the jaw expands to the desired width and then allows the bones to stabilize in the new position. This can sometimes create a small gap between the upper front teeth, but it often closes on its own or it may require braces to close it.
While palatal expanders are not for every case, they can help normalize development and improve the bite, and thus preclude more extensive orthodontic treatment later. But time is of the essence: after the maxilla has fused, surgery will be necessary to separate them and widen the palate. It's important then not to delay if your child could benefit from this effective treatment.
If you would like more information on palatal expanders and other orthodontic treatments, please contact us or schedule an appointment for a consultation. You can also learn more about this topic by reading the Dear Doctor magazine article "Palatal Expanders."