My Blog
Posts for: February, 2021
By Rudolph E. Roman, DMD
February 19, 2021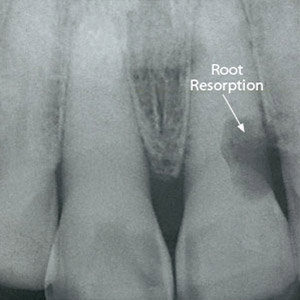 Most dental problems are caused by tooth decay or periodontal (gum) disease, easily preventable with dedicated daily hygiene and regular dental care.  But there are a few other rare conditions to be on alert for that could pose just as serious a threat to your dental health.
One of these is a phenomenon called root resorption. Put simply, certain cells arise within a tooth root that eat away and dissolve (resorb) tooth structure. Left unchecked, it could eventually lead to the tooth's demise.
Although its exact cause remains elusive, we suspect root resorption is associated with trauma to the gum ligaments earlier in life, perhaps from an injury or too much force applied during orthodontics. Other possible contributing factors include teeth-grinding habits or internal tooth bleaching procedures.
Root resorption in adults isn't that common, so your chances of experiencing it are low. But it is still possible, so you should be on the lookout for potential signs: Early on, it may appear as faint pink spots on teeth where the enamel has filled with the destructive cells eating away at the tooth. In time, these spots can increase to form cavities.
More than likely, though, your dentist may detect the problem during a dental exam. That's why regular dental cleanings and checkups are essential—a routine exam is a prime opportunity to uncover conditions like root resorption that silently undermine your teeth.
If found early, we can often treat root resorption effectively. We can often expose a small affected area with minor gum surgery, remove the harmful cells and fill any cavities with a tooth-colored filling. In some cases, we may recommend orthodontics beforehand to encourage a buildup of bone around the root by moving the affected tooth outward from the jawbone. If the resorption has affected the tooth pulp, you may also need a root canal treatment.
There is also the possibility with advanced resorption that the best course of action is to remove the tooth and replace it with a dental implant. So, keep up your regular dental visits—early detection and intervention can stop this destructive dental condition from destroying your tooth.
If you would like more information on root resorption, please contact us or schedule an appointment for a consultation. You can also learn more about this topic by reading the Dear Doctor magazine article "Root Resorption: An Unusual Phenomenon."
By Rudolph E. Roman, DMD
February 09, 2021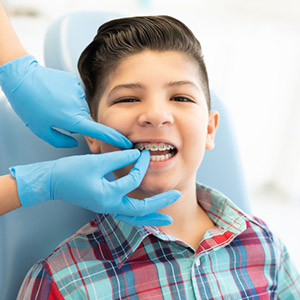 In any given year, 4 million tweens and teens are in the process of having their teeth straightened with braces or clear aligners. It's so common we tend to consider orthodontic treatment for young people as a rite of passage into adulthood.
But it doesn't necessarily have to be that way—it might be possible to stop or at least minimize a poor bite before it fully develops. That's the goal of interceptive orthodontics—treatments that head off or "intercept" a bite problem early.
The goal isn't necessarily to reposition misaligned teeth, but to correct a problem that can lead to misalignment. Here are some examples.
A narrow jaw. A narrowly developing jaw can crowd incoming teeth out of their normal positions. For the upper jaw, though, we can take advantage of a temporary separation in the bones in the roof of the mouth (palate) with a device called a palatal expander. Placed against the palate, the expander exerts outward pressure on the teeth and jaw to widen this separation. The body fills in the gap with bone to gradually widen the jaw.
Abnormal jaw alignment. It's possible for a jaw to develop abnormally during childhood so that it extends too far beyond the other. Using a hinged device called a Herbst appliance, it's possible to interrupt this abnormal growth pattern and influence the bones and muscles of the jaw to grow in a different way.
Missing primary teeth. An important role for a primary (baby) tooth is to hold a place for the future permanent tooth. But if the primary tooth is lost too soon, other teeth can drift into the space and crowd out the intended permanent tooth. To prevent this, we can insert a space maintainer: This simple looped metal device prevents teeth from drifting and preserves the space for the permanent tooth.
Although these and other interceptive treatments are effective, some like the palatal expander do their best work within a limited age frame. To take advantage of interceptive orthodontics in a timely manner, parents should seek a bite evaluation for their child from an orthodontist around age 6. The earlier we detect a growing bite problem, the greater your chances for successful intervention.
If you would like more information on treating emerging bite problems early, please contact us or schedule an appointment for a consultation. You can also learn more about this topic by reading the Dear Doctor magazine article "Interceptive Orthodontics."