My Blog
Posts for tag: nutrition
By Rudolph E. Roman, DMD
March 31, 2021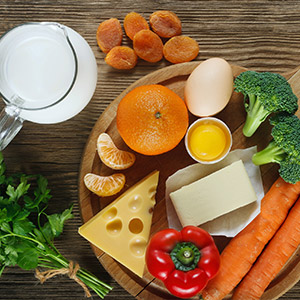 "Personalize Your Plate" is the theme for this year's National Nutrition Month in March, sponsored by the Academy of Nutrition and Dietetics. It means there isn't a single diet for all of us: We're each unique with differing body types and tastes, and our diets need to be unique as well. Still, though, you'll want to be sure to include basic nutrients that are generally good for all of us—including for our teeth.
As you "personalize" your daily diet, be sure it includes dental-friendly vitamins and minerals. Here are some of the more important ones that contribute to strong and healthy teeth, and the kinds of foods in which you'll find them.
Vitamin D. This vitamin is a key element for growing and maintaining healthy teeth and bone, mainly by helping the body absorb calcium. You'll find vitamin D in milk, eggs or fatty fish—and you'll also gain a little strolling outdoors in the sunshine!
Vitamin E. As an antioxidant, vitamin E helps the body fight free radical molecules that contribute to cancer development, including oral cancer. You'll find vitamin E naturally in seeds and nuts (and derivative cooking oils), wheat germ and whole grains.
Calcium. When included with vitamin D and phosphorus, calcium is an important "construction material" for building strong teeth and bones. You'll find calcium in dairy products like milk and cheese as well as greens, legumes and tofu.
Phosphorus. Eighty-five percent of the body's phosphorus, a companion mineral to calcium, is found in teeth and bones, where it helps to keep them strong and healthy. You'll find this important mineral in meats, milk and eggs.
Magnesium. This mineral helps mineralize teeth and bones, giving them strength and protection against disease. You can get magnesium by eating nuts, legumes, whole grains, dark leafy greens, seafood and—if you limit the added sugar content—chocolate.
Fluoride. Most people are familiar with fluoride added to drinking water or toothpaste to strengthen tooth enamel against tooth decay, but the mineral also occurs naturally in some foods. You can obtain low amounts of fluoride in seafood and black or green tea.
One last thing! While we're promoting foods that you should eat for healthier teeth, there's also one you'll want to cut back on: processed sugar. This carbohydrate is a major factor in oral bacterial growth that causes tooth decay and gum disease. So, eating foods low in sugar and high in these key vitamins and minerals will help ensure your teeth stay healthy.
If you would like more information about the importance of nutrition in dental care, please contact us or schedule a consultation. To learn more, read the Dear Doctor magazine article "Nutrition: Its Role in General & Oral Health."
By Rudolph E. Roman, DMD
March 11, 2021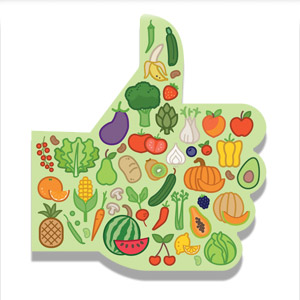 There are great health benefits to eating better, including for your teeth and gums. But to determine your ideal diet, you'll have to come to terms with carbohydrates, the sugars, fiber and starches found in plants or dairy products that convert to glucose after digestion.
Carbohydrates (also known as carbs) are important because the glucose created from them supplies energy and regulates metabolism in the body's cells. But they can also create elevated spikes of glucose in the bloodstream that can cause chronic inflammation. Besides conditions like diabetes or heart disease, chronic inflammation also increases your risk of periodontal (gum) disease, a bacterial infection arising from dental plaque.
Many concerned about this effect choose either to severely restrict carbs in their diet or cut them out altogether. But these hardline approaches deprive you of the benefits of carbs in maintaining good health. There's a better way—and it starts with understanding that not all carbs are the same. And, one difference in particular can help you properly manage them in your diet.
Here's the key: Different carbs convert to glucose at different digestive rates of speed measured on a scale known as the glycemic index. Carbs that digest faster (and are more apt to cause glucose spikes in the bloodstream) are known as high glycemic. Those which are slower are known as low glycemic.
Your basic strategy then to avoid blood glucose spikes is to eat more low glycemic foods and less high glycemic. Foods low on the glycemic index contain complex, unrefined carbohydrates like most vegetables, greens, legumes, nuts or whole grains. High glycemic foods tend to be processed or refined with added sugar like pastries, white rice, or mashed potatoes.
Low glycemic foods also tend to have higher amounts of minerals and nutrients necessary for healthy mouths and bodies. And fresh vegetables in particular often contain high amounts of fiber, which slows down the digestion of the accompanying carbohydrates.
Eating mainly low glycemic foods can provide you the right kinds of carbs needed to keep your body healthy while avoiding glucose spikes that lead to inflammation. You're also much less likely to experience gum disease and maintain a healthy mouth.
If you would like more information on nutrition and dental health, please contact us or schedule an appointment for a consultation. You can also learn more about this topic by reading the Dear Doctor magazine article "Carbohydrates Linked to Gum Disease."
By Rudolph E. Roman, DMD
July 13, 2020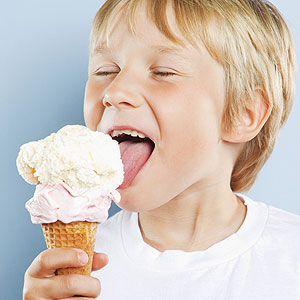 If you love ice cream, then you'll get a kick out of this: Your favorite treat has its own month. That's right, July is National Ice Cream Month, when we celebrate—and indulge in—one of the most delicious concoctions ever known. Just don't overdo it, among other reasons, for the sake of your teeth.
In a way, it's a bit of a love-hate relationship between this frozen wonderfulness and your dental health. Like any dairy, ice cream is full of nutrients like calcium, phosphorous and vitamin D that together strengthen tooth enamel and help prevent decay. But this nutritional benefit is tempered in most ice cream by its other major ingredient: sugar.
Sugar can be a problem for your teeth because disease-causing oral bacteria love it just as much as you do. It's a prime food source for them, and when there's a lot available (like right after you finish that dipped cone) bacteria go crazy multiplying and producing acid. This could lead to tooth decay or gum disease.
Sugar's effect on dental health is an issue not only with ice cream but with other desserts and sweetened snacks as well. What can you do, then, to have your ice cream (or cake) and your dental health too?
Moderate your consumption. We're not saying you have to give up sweet desserts like ice cream—just keep your portions small and infrequent. Partake of them mainly as an occasional treat rather than as standard everyday fare.
Brush after eating. The biggest threat to dental health is the sugar that lingers in the mouth after we eat something sweet like ice cream. So, wash your mouth out with water and then brush your teeth after eating to remove any residual sugar. But not right away—give your saliva a chance to neutralize any mouth acid first by waiting about thirty minutes.
Choose healthier options. Instead of diving into a bowl of butter pecan or rocky road when you get the urge to snack, try a little non-fat Greek yogurt or cheese with some fresh fruit. Choosing alternatives like these can still give you the benefit of dairy without the excess sugar.
Ice cream is one of those indulgent little pleasures that make life sweet. Just be sure you're enjoying it within healthy limits to protect your dental health.
If you would like more information about nutrition and dental health, please contact us or schedule a consultation. To learn more, read the Dear Doctor magazine articles "Nutrition & Oral Health" and "The Bitter Truth About Sugar."