My Blog
Posts for: December, 2017
By Rudolph E. Roman, DMD
December 23, 2017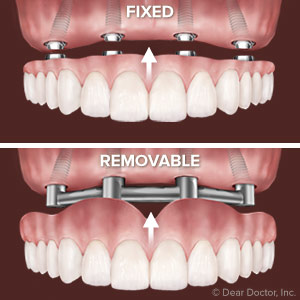 Although dental implants are best known as single tooth replacements, they can actually play a role in multiple or complete tooth loss (edentulism) restorations. While replacing multiple teeth with individual implants is quite expensive, there's another way to incorporate them in a restoration at much less cost — as supports for bridges.
In this case, only a few strategically placed implants are needed to support restorations of multiple crowns fused together into a single unit. Implant-based bridges consist of two main types: the first type is a fixed bridge, which is permanently attached to the implants and can't be removed by the patient. It's often the preferred treatment for patients who've lost most or all of their teeth but have not yet experienced significant bone loss in the jaw.
This choice, however, may not be the best option for patients with significant bone loss. In these cases, there's a second type of fixed bridge: an implant-supported fixed denture. This type of fixed denture provides support for the lost bone support of the lips and cheeks. If a fixed bridge is not possible due to finances or inadequate bone support to place 4 to 6 implants, a removable denture (also known as an overdenture) that's supported and held in place by implants is the next best alternative. Unlike a fixed bridge, an overdenture can be removed by the patient for cleaning purposes, and will require less investment than a fixed bridge.
For people with bone loss, the overdenture does more than restore chewing and speech function. Because bone loss can diminish support of the facial structures — actually shorten the distance between the chin and the tip of the nose — an overdenture provides additional bulk to support these structures to improve appearance. Depending on what the patient needs for facial support, overdentures for the upper jaw can be designed as "full palates," meaning the denture plastic completely covers the upper jaw palate, or open in which the plastic doesn't completely cover the palate.
Besides the condition of your teeth, gums and bone, your own personal preferences and financial ability will also play a role in which option is best for you. After considering all these factors, we can recommend which of these types of implant-based restorations will fit your needs. With either bridge, fixed or removable, you'll certainly benefit from the improvement to both your mouth function and your smile.
If you would like more information on implant-supported bridges, please contact us or schedule an appointment for a consultation. You can also learn more about this topic by reading the Dear Doctor magazine article "Fixed vs. Removable."
By Rudolph E. Roman, DMD
December 08, 2017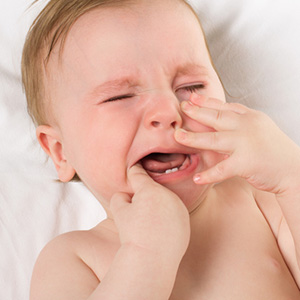 Teething is a normal part of your baby's dental development. That doesn't make it less stressful, though, for you or your baby.
This natural process occurs as your child's primary teeth sequentially erupt through the gums over a period of two or three years. The first are usually the two lower front teeth followed by the two upper front ones, beginning (give or take a couple of months) between six and nine months. By the age of three, most children have all twenty of their primary teeth.
The disruption to the gum tissues can cause a number of unpleasant side effects including gum swelling, facial rash, drooling, disrupted sleep patterns and decreased appetite. As a result a child can become irritable, bite and gnaw to relieve gum discomfort or rub their ears. Every child's experience is different as well as their degree of pain and discomfort.
As a tooth is about to erupt, you may notice symptoms increasing a few days before and after. The symptoms will then subside until the next tooth begins to erupt. In a way, teething is much like a storm—you mostly have to ride it out. However, that doesn't mean you can't lessen your child's discomfort during the teething episode.
For one thing, cold, soft items like teething rings, pacifiers or even a clean, wet washcloth your child can gnaw on will help relieve gum pressure. Chilling the item can have a pain-numbing effect—but avoid freezing temperatures, which can burn the tissues. You can also massage the gums with a clean finger to relieve pain. But don't rub alcohol on their gums and only use numbing agents (like Benzocaine) for children older than two, and only with the advice and supervision of your healthcare provider. The use of acetaminophen or ibuprofen might also be used under the advice of your doctor.
If you notice your child has diarrhea, extensive rashes or fever, contact your physician immediately—these aren't normal teething symptoms and may indicate something more serious. And be sure to consult with us if you have any other questions or concerns.
Teething can be a difficult time for your baby and family. But with these tips and a little "TLC" you can keep their discomfort to a minimum.
If you would like more information on caring for your baby's developing teeth, please contact us or schedule an appointment for a consultation. You can also learn more about this topic by reading the Dear Doctor magazine article "Teething Troubles: How to Help Your Baby be Comfortable."