My Blog
Posts for tag: dental care
By Rudolph E. Roman, DMD
September 17, 2019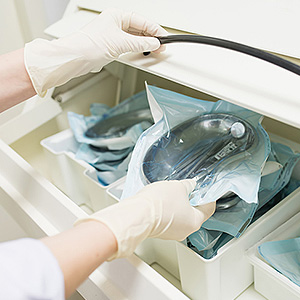 Visiting the dentist for regular cleanings and needed dental work can do wonders for keeping your teeth and gums in tip-top shape. But if you've seen or heard about infections occurring in healthcare facilities, you might be a little concerned that your trip to the dentist might expose you to one. Don't be! You and your family will be out of harm's way because your dental team has made protection from viruses, bacteria and other infectious agents a top priority. To highlight this effort, the American Academy of Oral Medicine commemorates each September as "National Dental Infection Control Awareness Month."
As a healthcare provider, dentists have a legal, moral and ethical obligation to protect patients (and staff members too) from infection through what are known as "standard precautions." These include barrier protection, disinfection and sterilization practices, and safe disposal of contaminated items.
But dentists and their professional organizations don't stop with the minimum requirements—they're committed to a higher standard when it comes to infection control. The bedrock for this commitment is adherence to an infection control checklist developed by the U.S. Centers for Disease Control (CDC), updated regularly. This in-depth checklist recommends several best practices and protocols, including:
Creating a written infection control plan that outlines all practices and procedures to be followed by the provider and staff;
Barrier protection, including the wearing of disposable gloves, face shields or gowns by providers as appropriate;
Proper disposal methods for used items;
Proper hand washing and other hygiene practices before and after treatment procedures;
Proper disinfection and sterilization of instruments and equipment;
Most licensing bodies also require that dentists and their staff undergo continuing education in infection control, usually every two years.
Because you as a patient have a right to know the details about your medical and dental care, you have public access to infection control guidelines and requirements. You can also ask your dental provider about what steps they take to protect you and your family from infectious disease. They'll be glad to answer any questions you have to put your mind at ease about your safety.
The dental profession's commitment to patient and staff safety has drastically reduced the risk of any infection. Rest assured, your dental visit will be beneficial for your oral health—and safe for your general health too.
If you would like more information about infection control in the dental office, please contact us or schedule a consultation. To learn more, read the Dear Doctor magazine articles "Infection Control in the Dental Office" and "Shingles, Herpes Zoster: A One-Sided Facial Rash."
By Rudolph E. Roman, DMD
August 13, 2018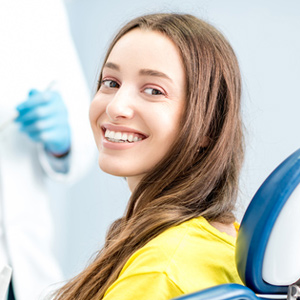 Today's dental care has advanced leaps and bound over the last century. But these advances are tiny steps compared to what many believe may be coming in the next few decades. This optimism arises from our growing understanding of deoxyribonucleic acid (DNA), the chain-like molecule that houses the genetic instructions for the growth, function and reproduction of every cell in the body.
As researchers unlock the secrets of this vast genetic blueprint unique to each individual the possible applications from this knowledge are astounding. Here are just a few possibilities that could one day impact everyone's oral health.
Preventing tooth decay. This rampant disease, triggered by bacteria (particularly Streptococcus mutans), can cause extensive damage in otherwise healthy teeth. There's already some indications from the study of genomics that we may be able to stop or at least hinder this disease in its tracks. Already we're seeing advances in gene therapy that might be able to inhibit the growth of Strep mutans and reduce its colonies in the mouth.
Growing new teeth. Composed of various layers, a natural tooth is part of a dynamic system of bone and gum ligaments that allow movement, protection and nourishment. Although dental implants are the closest and most advanced artificial approximation we now have to them, implants still can't fully measure up to the function and capabilities of a natural tooth. But further insight into the genetic code may one day allow us to reproduce a living replacement tooth for a lost one.
Harnessing saliva for detecting disease. The impact of genomics related to the mouth could impact more than just the mouth itself. Researchers have discovered that saliva contains genetic information similar to blood, urine and other bodily fluids with markers for various disease conditions. Unlike other fluids, though, saliva is relatively easy to collect. The key is new equipment and testing protocols to take advantage of the information already available in a single drop of saliva.
These examples illustrate the range of possibilities for better health in the future: a reduction in dental disease early in life; new and better ways to restore missing teeth; and quicker ways to diagnose dangerous health conditions.
If you would like more information on new developments in dental care, please contact us or schedule an appointment for a consultation. You can also learn more about this topic by reading the Dear Doctor magazine article "The Future of Dentistry: A Sneak Preview of Your Dental Future."
By Rudolph E. Roman, DMD
April 15, 2018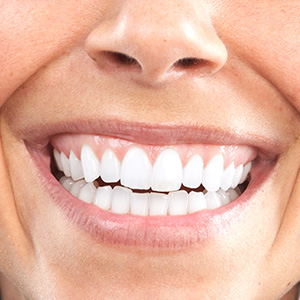 There are well-known holidays on the calendar this month, but here's one that might have escaped your notice: "Keep America Beautiful Month," which is observed throughout April! At this time, people from coast to coast are encouraged to clean and beautify their communities. So why not think of it as an occasion to spiff up your smile? Here are five ways to do exactly that:
Have your teeth professionally cleaned. A routine dental visit, which includes a professional cleaning and exam, is one of the best preventive healthcare values there is. It's a chance to catch dental problems (including potentially serious ones like oral cancer) before they become more difficult to treat. A dental professional can remove built-up deposits of tartar from your teeth using specialized instruments—something you can't do at home. Plus, you'll leave the office with a freshly polished smile that looks and feels great.
Get a professional teeth whitening. Having whiter teeth often makes people look more youthful. And one of the best ways to brighten dull teeth is with professional teeth whitening. You can achieve the fastest, most dramatic results with an in-office treatment—up to ten shades in just one visit! We can also make you a custom take-home kit to achieve similar results over time.
Repair chipped teeth. If you feel self-conscious about a chipped tooth, consider cosmetic bonding. In this relatively inexpensive procedure, which often takes just one office visit, tooth-colored resin material is applied to the chipped area and hardened under a special light. The translucent resin is built up layer by layer, bringing teeth with minor flaws back to a great, natural-looking appearance.
Replace old dental work. Sometimes old dental work can stand out more than we'd like it to. This is especially true of amalgam (silver) fillings—but even white fillings can absorb stain after many years. If you feel old dental work is detracting from your smile, it may be time to replace it with up-to-date dental materials.
Straighten your smile. Did you know that there is no maximum age for successful orthodontic treatment? It's true: Healthy teeth can be moved at any age. And if you think metal braces wouldn't fit in with your look or lifestyle, consider one of the less-visible alternatives to traditional orthodontic hardware—such as ceramic braces and clear aligners.
Having the smile you want can make you feel more confident in any month of the year. If you'd like more information on cosmetic dentistry, please contact us or schedule a consultation. You can learn more by reading the Dear Doctor magazine articles "How Your Dentist Can Help You Look Younger" and "Orthodontics for the Older Adult."